Whether a customer bought your product online or at the store, your package has an impact on your brand. Consumer technology manufacturers should look outside of their category to get inspiration. This blog will highlight a product that has done a great job defining their brand through their package design as well as some packaging within the CE category.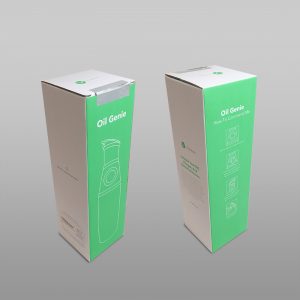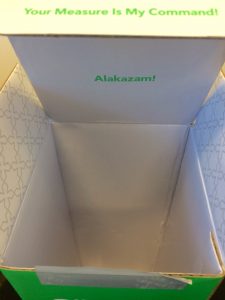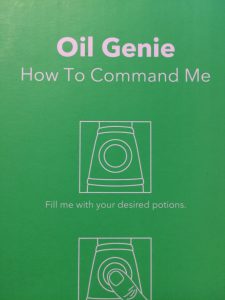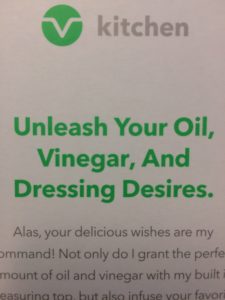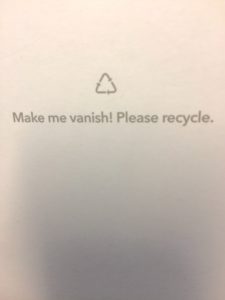 The Vremi Oil Genie Brand Has a Sense of Humor
I bought this product online through Amazon. The package didn't influence my purchase but it sure told a story about their brand. Oil Genie is a funny name and they played off of that with their copy. For example: "Unleash Your Oil, Vinegar and Dressing Desires" was their tagline. Even the back of the box had a tag line with their recycling logo: "Make me vanish. Please Recycle." The design was clean and simple and didn't even use a photo of the product or how it is used. The typical design solution might have been to show the product in use with lots of fresh vegetables and herbs. I was so amused by this package that I looked up their other products on their corporate site. Their brand continued to stay true to itself. Each product had a unique and humorous name: Totally Sauced Spoon Rest, Peel of Fortune, Dazed and Infused Pitcher, and Just Beat It! Hand Mixer, just to name a few. What did I take away from just looking at their packaging? Vremi:
Has a sense of humor
Celebrates clean modern design
Is relatable and friendly
Wants to make life easier
The packaging design alone has encouraged me to want to purchase other products from this brand. Do I think this product would stand out on self in a retail environment? My guess is it would.
How Can CE Manufactures Express Their Brand Through Their Packaging?
Granted, not all CE products can have as much fun as Vremi. A sense of humor might not be a part of a companies brand personality. However, I have had so many clients say "I want to look like Apple". The problem is, they aren't Apple and they will never be Apple and the end result never looks like Apple. You must define your brand and express your brand through everything you do.
Once you know who your are, then you can start to design a cohesive brand strategy for your packaging. Here are three items you should consider when designing your package:
Stand apart from your competition
Create a hierarchy of information
Keep it simple
There are a lot more factors to consider, but these items I've listed above seem to be the hardest for our consumer technology clients. After all, selling a headphone, speaker or microwave can be a lot more complicated than selling an olive oil dispenser.
Why This Packaging Works
Xqisit: This Micro USB cable packaging is clean and makes the product hero. This isn't a "sexy" product but if you are looking for a cable, you want to identify it quickly. The connectors are obvious, the product name is bold and a primary read. (I'm not always a fan of type that is placed vertically on packaging, but this works.) The supporting text and icon add just enough information. I went to the Xqisit website and their branding was consistent with the packaging which is clean and elegant.
earBudeez: I knew right away the target market for this product and it isn't me. It is targeting 10-14 year olds. This package design easily grabs attention and is yet simple in design. The different personalities of the packaging helps children identify with the product. The rest of the product line is made up of different characters and colors. It is clever without being too cute.
Jam Audio Wireless Speaker: In a crowded product category this package stands out. The speaker is in a jam jar and plays cleverly off of its name. The rest of the product line comes in different colors in a package that looks like a jar. Most products in this category come in boxes so they have the opportunity to be different while having a sense of humor.
If you are interested in more blogs about brand and packaging, check these out:
Packaging and Commodity Products