I have sat in forums surrounded by independent and regional retailers and listened to their disdain for Amazon—even though they probably frequent the site for their own family. Recently, my office manager was kicked off of Amazon. Yes, you read that right. How can you live without using Amazon? Guess what, she survived. There is life without Amazon. This blog explores 4 ways regional retailers CAN compete with the likes of Amazon and Walmart.
Monetize your retail site
Guess how Amazon makes all of their money? Advertising. They don't make their money from the products they sell or deliver in a day, but they make billions on advertising. Customers browse e-commerce sites when they are considering a purchase. Especially when it comes to a large purchase. You can have sponsored ads and banner ads on your site, but did you know you can also sell ads on product listing and product detail pages? If you have an advertising sales team, they can sell more inventory with this advancement in retail media placement. Plus, since it is located on or near the product, it is more relevant for the shopper. See the video below for more detail.
Video:
Perform community outreach
Let's say you have a regional grocery store with multiple locations. Make sure each storefront is involved in their local neighborhood because Walmart is already tapping into local markets more aggressively. But guess what, consumers like to support their local businesses so make yourself visible in your community. Donate product, volunteer, support school athletic teams, sponsor an e-waste program and make your brand visible. My local specialty foods market has a wine bar at the entrance with this invitation: "You Sip While we Shop". Neighbors meet up and socialize at the store while their shopping is being done by someone else. What a great idea!
Walmart Strengthens Local Communities
Grocers should give their shoppers an experience
Have knowledgeable staff at your storefront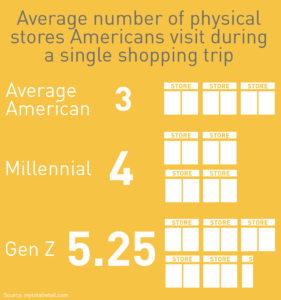 We have all heard about the retail apocalypse. A lot of mighty retail brands have disappeared because they didn't evolve. But people are still shopping in stores and that includes Millennials and Gen-Z. Check out this statistic from My Total Retail. They may start by shopping online, but they come for the knowledgable service your team members can provide. When it comes to an item that is expensive or technical, customers want to talk to a salesperson that knows the product.
Provide flexible delivery options
Customers want what they want when they want it. Amazon is now doing same-day delivery on some items. This means local retailers need to be more flexible. Buy online, pick-up in-store (BOPIS), which is also known as "click and collect," is an option regional retailers must provide. They can also fulfill orders faster than Amazon because they don't (as of yet) have too many physical locations. Amazon has pick-up locations at stores such as Kohl's and Whole Foods Market. Clearly, customers are comfortable with driving to get their package. Plus, people are now leery of having a package left on their porch.