Retargeting (stalker) advertising: Does it work?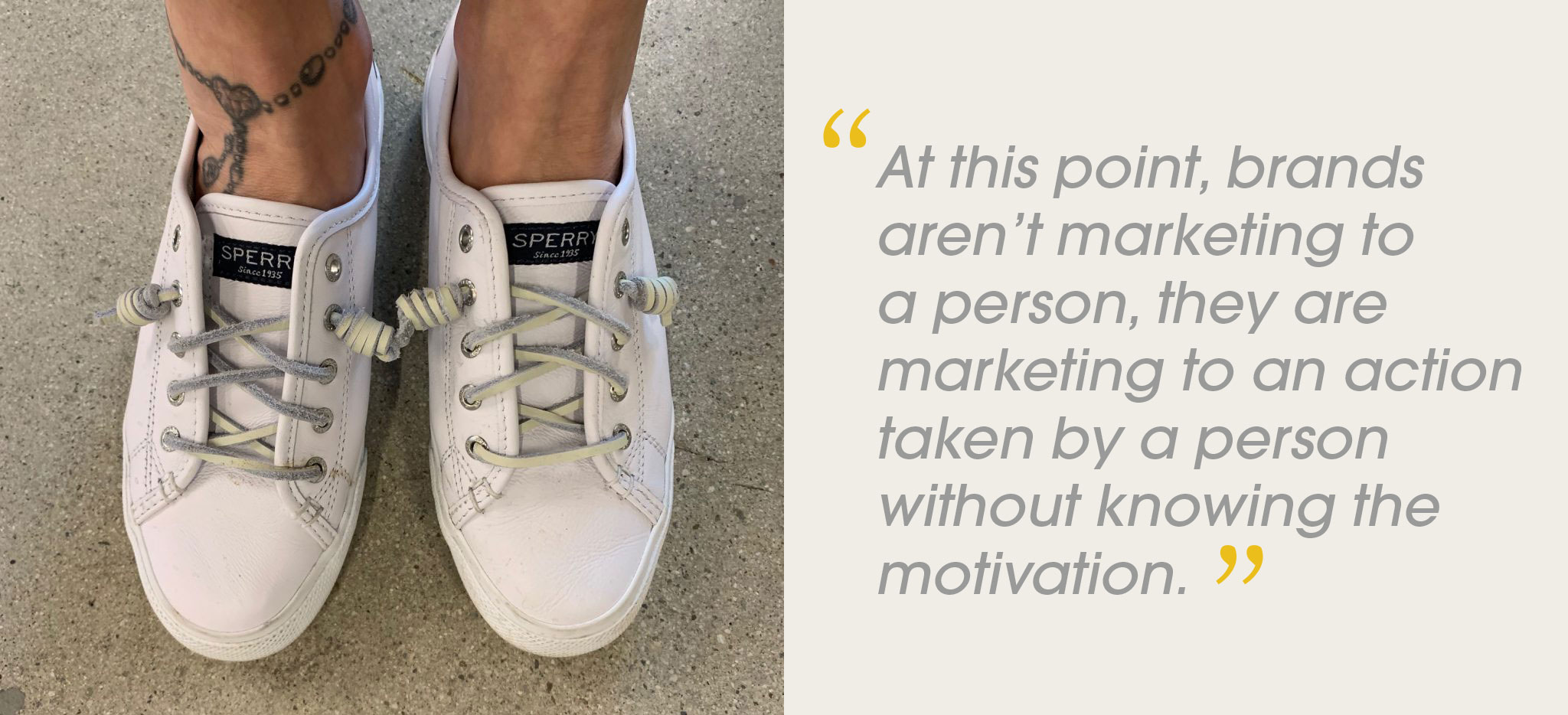 I wanted to write this blog based on the experience of shopping for some white leather tennis shoes. Of course, when I did a search for the item, advertising from Amazon came up first. I give them enough of my business so I started looking at prices. I noticed that Macy's was having a sale. I found a pair of Sperry white leather tennis shoes. They were a good price (cheaper than Amazon with my discount). I put them in my cart and it said if you add one more item you get some money off. So, of course, I found something else I didn't really need. The one item I didn't need arrived but the white leather tennis shoes were not in my package. It said they were unavailable. So now, I have one thing I don't need and no tennis shoes.
Now, I go to Amazon. I'm a prime member so no shipping charges. I find the exact pair of shoes. They were more expensive than I wanted but I paid the money. In the meantime, Sperry tennis shoes are showing up everywhere I go on the web—virtually everywhere. Sometimes 5 times on a page. Even after I get the shoes the ads are still showing up. They aren't just showing up in white, but in all colors everywhere I go. I like my shoes; but now, I don't like this brand. I'm sure this wasn't the brand's intention.
The key to advertising is personal interest.
"Digital marketing experts estimate that most Americans are exposed to around 4,000 to 10,000 ads each day. At some point, we start a screening process for what we engage with and start ignoring brands and advertising messages, unless it's something that we have a personal interest in." Forbes, August 2017
Ask yourself, how many ads in a day reach you that you have a personal interest in? I can honestly say 0-1 per day and most aren't persuading me to buy. The advertising reaching me I either ignore, fast forward through or it just annoys me.  What's sad is I love the advertising business. I love creative advertising. I love advertising that reaches me when I'm ready to receive it. I also work in the field of advertising so I don't want to trash this industry. But something is wrong when you feel stalked by a product you already bought and liked, but now you hate the brand.
What went wrong with this advertising?
This wasn't a positive or pleasant shopping experience.
Macy's was my first source of frustration. I wanted to give them my business. But they handled this poorly. The sale had ended by the time I got the item that I didn't really want. They didn't offer up any options. I said to myself,  should I have gone to Amazon first because it is easier?
Why would I continue to get retargeted advertising after I already purchased the product? If it was triggered by the attempt to purchase from Macy's they should be aware they canceled my order. If it was triggered by Amazon they should know I purchased the product. If I'm being targeted by the browser, LEAVE ME ALONE.
Is it really retargeting when it feels like stalking?

At it's most basic, retargeting advertising happens when a customer is on a site, looks at a product but doesn't purchase. The product they looked at will now show up randomly on other sites they visit. The problem with this is the site doesn't know what prompted the initial search. Are they shopping for someone else? Are they doing research for work? Are they really looking for that product or did they click on it accidentally? At this point, brands aren't marketing to a person, they are marketing to an action taken by a person without knowing the motivation. The likelihood of reaching this customer at the right time is very slight. In addition, it's creepy. We are all aware of the unlawful use of customer's data and this makes it worse and doesn't reflect well on the brands that are using it.
I have found several articles citing statistics showing that retargeting works and it is a main category of digital advertising budgets. But I also found several articles stating the popularity of this type of advertising is on the decline.
Resetting the rules of retargeting